Speech Pathology Collaboration with the University of Oslo
In April, Dr Elaina Kefalianos was invited to visit the University of Oslo in Norway by two speech pathologists, Associate Professor Kari-Anne B. Naess and Ms Linn Stokke Guttormsen.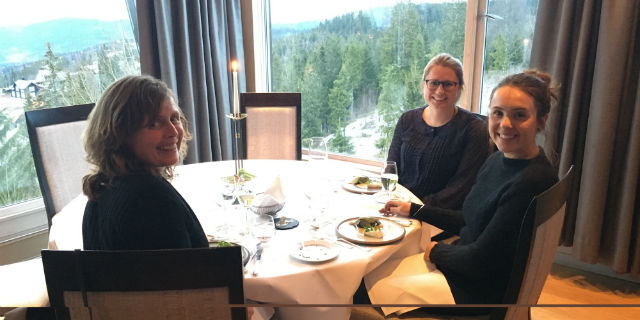 Associate Professor Naess and Ms Guttormsen are researchers at the Department of Special Needs Education. The primary purpose of the visit was to develop 2 major project grants for submission to the Norwegian Research Council. Dr Kefalianos also collaborated with Associate Professor Naess and Ms Guttormsen preparing a manuscript for publication based on some of the research developed from Ms Guttormsen's PhD. During the visit, they all travelled to Lyesbu, a picturesque writing retreat in the hillside just outside of the centre of Oslo. Writing retreats are attended frequently by researchers in Scandinavian countries as they provide a unique forum to collaborate within teams for extended hours, preparing publications and grant applications and engaging in in-depth discussions. By the end of the writing retreat, two grants had been prepared for submission. Thank you to Associate Professor Naess, Ms Guttormsen for generously hosting Dr Kefalianos in Oslo and funding the visit. The visit was wonderful and provided an invaluable opportunity to extend collaborations between The University of Melbourne and University of Oslo.