MSHS Awards and Thankyou to Professor Linda Denehy
The sun was shining brightly for the School of Health Sciences to come together in our first in-person event as a School in over two years on Tues 30 November. Held at University College, the MSHS School Awards and End of Year event was also a tribute to Professor Linda Denehy, who will be stepping down as Head of School after five years of inspirational leadership at the end of this year.
MC Associate Professor Ralph Hampson introduced proceedings and welcomed 80+ guests before Professor Linda Denehy took to the stage to reflect on the highlights and achievements of the year that was. She congratulated staff who had been promoted, remembered those who were retiring and welcomed newcomers to the MSHS community. We looked back on a broad range of memories from 2021, applauding some of the school's major highlights, of which there were too many to mention.
Then we went onto the MSHS awards, with a plethora of accolades across all departments presented by Director of Graduate Research, Associate Professor Catherine Granger, Director of Learning & Teaching, Professor David Rose, Director of Engagement Associate Professor Ralph Hampson and Professor Linda Denehy respectively.
Research Excellence Award
Professor Angela Morgan – Aud & Speech
Graduate Research Supervision
A/Prof Bang Bui - DOVs
A/Prof Laura Downie - DOVs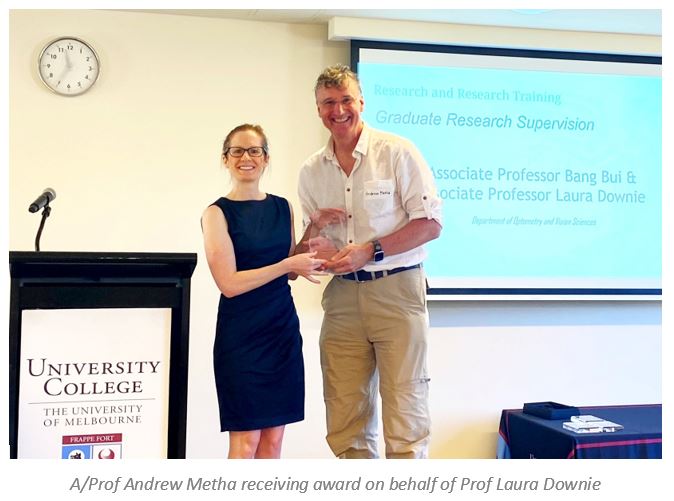 Learning & Teaching Excellence
Dr Elise Fraser & The Pelvic Floor Education Team: Dr Margaret Sherburn, A/Prof Helena Frawley, Robyn Brennen, Hayley Irving, Jemma Dusink, Jodie Dakic – Physiotherapy
Learning & Teaching Excellence (Early Career)
Lorraine Parsons & Dr David Rose – Social Work
Engagement Excellence
Dr Peter Carew – Audiology
Engagement Excellence (Team)
25 Years of Nursing Anniversary Team: Professor Denise Harrison, Kate Stephenson, Naomi McDonald, John Thompson, Jo-Anne Martin, Bronwyn Tarrant, Helena Bujalka, Dr Stephen McKeever
Professional Excellence Award
Ninna Cikoja
Faculty Values Excellence
Dr David Kelly – Physiotherapy
A/Prof David Rose – Social Work
Head of School Excellence Award
Clinical Placement Teams: Sara Nelson, Andrew Howes, Dianne Storey, A/Prof Dani Tomlin, Dr Kelley Graydon, Hayley Dell'Oro, Kerry Sullivan, Philippa Marriott, Bronwyn Thomson, A/Prof Anthea Cochrane, Laura Edwards, Dr Debra Virtue, Tina Liang, Judi Brewster, Dr Jennifer McConachy, Bingyao Liu, Gwynneth Thomas, Liv Dumville, Prue Cambridge.
Following on from the awards, Professor Lou Harms stepped up to offer a heartfelt farewell for Professor Linda Denehy, reflecting on the many highlights in her time as Head of School, leaving many reaching for the tissues. Representing the Faculty of Medicine, Dentistry & Health Sciences, Professor Mike McGuckin then offered his thanks for Linda for her years of dedicated service, before presenting her with a beautiful Mulkun Wirrpanda Indigenous artwork taken from The Art of Healing: Australian Indigneous Bush Medicine. The print is an image of the bush plant Capparis Umbonata, or Bush Orange, which offers relief from painful joints – very fitting for a Physiotherapist. Professor Linda Denehy closed the speeches for the afternoon with a beautiful retrospective on her tenure and a thankyou to all staff, before lunch was served al fresco at the Leitch Academic Centre.
Congratulations to all award winners and thanks to all who attended a lovely afternoon.