Trailblazing "teleaudiology" from Cambodia to the clinic
After developing a remote service in Cambodia to accurately perform diagnostic assessments using virtual platforms, the Audiology department has adapted their techniques to offer similar non-contact services to hearing aid clients in Melbourne in the age of COVID-19.
In 2016, the UOM Audiology Department was responsible for the set-up of an audiology clinic at Children's Surgical Centre (CSC), a non-profit hospital in Phnom Penh. The CSC aims to improve the quality of life for low income families living with disability by providing free rehabilitative surgery and treatment.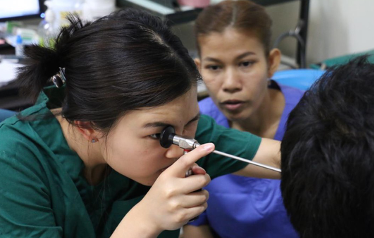 Before remote services became the forced norm with the outbreak of COVID-19, Audiology students were trialling and perfecting telehealth initiatives to assess the patients in Cambodia hospital, with the teaching team supervising remotely. It's great to see the implementation of the same techniques to assess patients in the University of Melbourne Audiology clinic, whilst minimising face to face contact and enabling student participation.
University of Melbourne audiologists have the ability to test patients remotely and provide students with telehealth placements whether they are a few blocks away, interstate or overseas.
The thinking behind the Cambodia project
Given the shortage of medical and health care professionals in Cambodia, there was a need for audiological services and of training in such skills. The program was designed by UOM staff to empower local staff to carry out audiology appointments including adult and paediatric diagnostic services and hearing aid fittings.
With ongoing site visits and support using WhatsApp, the Audiology department has driven the success of a busy clinic that has been running remotely for nearly four years. UOM staff and students continue to visit the hospital 3-4 times a year, and all masters of Audiology students are involved in the remote support of the clinic through our teleaudiology program.
The most recent visit to the hospital allowed UOM staff and students to train local staff in Paediatric diagnostic assessments (pictured above and right). Diagnosis of permanent hearing loss or treatable middle ear disease is essential for a child's long term outcomes regarding speech and language development.
During the most recent trip, there was also a site visit to a deaf school (pictured below)
where hearing aid maintenance and repairs were carried out by our Audiology students.
During COVID-19 we have maintained our successful teleaudiology program with UOM students testing the hearing of Cambodian patients in real-time. The cases are complex and provide our students with valuable clinical experience as well as promoting global community engagement.