NHMRC Development Grant awarded to Associate Professor Laura Downie for dry eye innovation
We'd like to congratulate Associate Professor Downie of the Department of Optometry and Vision Sciences (DOVS), and Head of the ADMiER project, on her 2020 NHMRC Development Grant.
A/Prof Downie's work in teaching and research has contributed significantly to the MSHS community. After graduating with a Bachelor of Optometry in 2003, she continued with her research, receiving her PhD from The University of Melbourne in 2008. After five years of developing clinical expertise working full-time in optometry clinical practice, A/Prof Downie returned to the University in 2013 and established her research laboratory: 'Anterior Eye, Clinical Trials and Research Translation Unit'. Her research focuses on new ocular diagnostics and therapeutics to deliver improvements in clinical outcomes for patients. A/Prof Downie's Acoustically-Driven Microfluidic Extensional Rheometry (ADMiER) project arose from research focused on novel strategies for identifying dry eye disease in eye care practice.
Dry eye disease is a common condition affecting an average of one in five adults; symptoms include eye pain and impaired vision. The ADMiER project addresses the clinical challenge of reliably diagnosing dry eye disease. Many of the current clinical tests are invasive, time-consuming, and inaccurate. Despite the availability of a range of therapies for clinicians to treat dry eye disease, it remains difficult to determine which therapy to use. Most importantly, identifying the major sub-type of eye disease is crucial for an accurate diagnosis and informing the most appropriate treatment. Accordingly, ADMiER is a revolutionary technology proposed by A/Prof Downie and her team that strives to fulfil the need of a device able to both identify and sub-type dry eye.
The NHMRC has awarded a three-year grant of over $750 000 to A/Prof Downie and her team of associates, RMIT Professor Leslie Yeo, UoM Associate Dean of Innovation and Enterprise Professor Darren Kelly and UoM Director of Research and Enterprise Development Doctor Heather St John, to fund the ADMiER project. The team are also receiving continuing business development and commercialisation support from Doctor Ruth Park-Jones. ADMiER is an innovative device that seeks to transform the clinical diagnosis of dry eye by providing an accurate, time-efficient and non-invasive point of care test.
"We non-invasively collect a very small volume of tears from the patient," explains A/Prof Downie. "We then place that tear sample in the ADMiER device and it analyses the stretching behaviour of the tears. We can use this information then to both diagnose and sub-type the condition." This early and efficient diagnosis will substantially improve the application of effective dry eye therapy and lead to an increase in successful treatments of this common disease.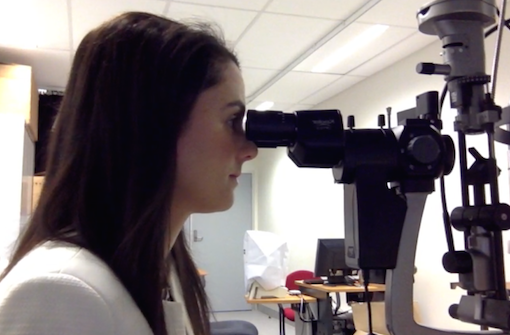 A/Prof Downie and her team have created a research-grade ADMiER prototype and have secured a strong patent portfolio. Over the past couple of years, she has pitched the technology at several national international meetings and with potential local investors.
Speaking about how the NHMRC Development Grant will advance their project, A/Prof Downie stated: "Our overall aim is to develop an optimised, next-generation, prototype, with the intent of having a product available on the market in the next five years. Over the past few months, we have engaged a commercial consultant to develop a professional product development plan. This plan, which is currently being finalised, will outline the critical steps we need to undertake to ultimately bring ADMiER to market, and a prioritised order to undertake these key activities."
The ADMiER project is supported by a range of investigators and advisors, spanning the commercial, technical and clinical sectors, including a major key opinion leader in the United States. A/Prof Downie and her 16-member team have a clear focus to develop a device that will vastly enhance patient care. On this topic, A/Prof Downie indicates that she has "undertaken voice of customer analyses with optometrists and ophthalmologists to ensure the technology will meet end-user needs. The information acquired from these interactions has informed our target product profile, the required diagnostic accuracy and the planned retail price point. We have also surveyed dry eye patients to inform the design of the tear collection device, to ensure patient acceptability."
The ADMiER project has the potential to revolutionise the clinical identification of dry eye disease. We look forward to seeing this project advancing in both the development of its new prototype and following its commercialisation journey.
For further information, please contact Laura Downie at ldownie@unimelb.edu.au or +61390353043.